Skytel
Location: Chengdu, China
Client: Grand Skylight Hotel Management
Area: 850 sqm
This is a newly opened boutique hotel in Chengdu China. The project aimed at developing a new mode of business hotel that cross-over hospitality and art-related business to cater the expanding local market of art exhibition and auction.
Inspired by the hotel name 'Skytel', an abstracted interior landscape of sky, mountain and earth was created to provide multiple functions of hotel and art gallery.

Entrance lobby in white undulated wall-cum-ceiling spatial envelope with silk-screened texts provides transition from the busy world to an abstract and serene hospitality space. A temporary cloud-like art installation in the multi-functional exhibition zone greets customers through subtle interactive projection.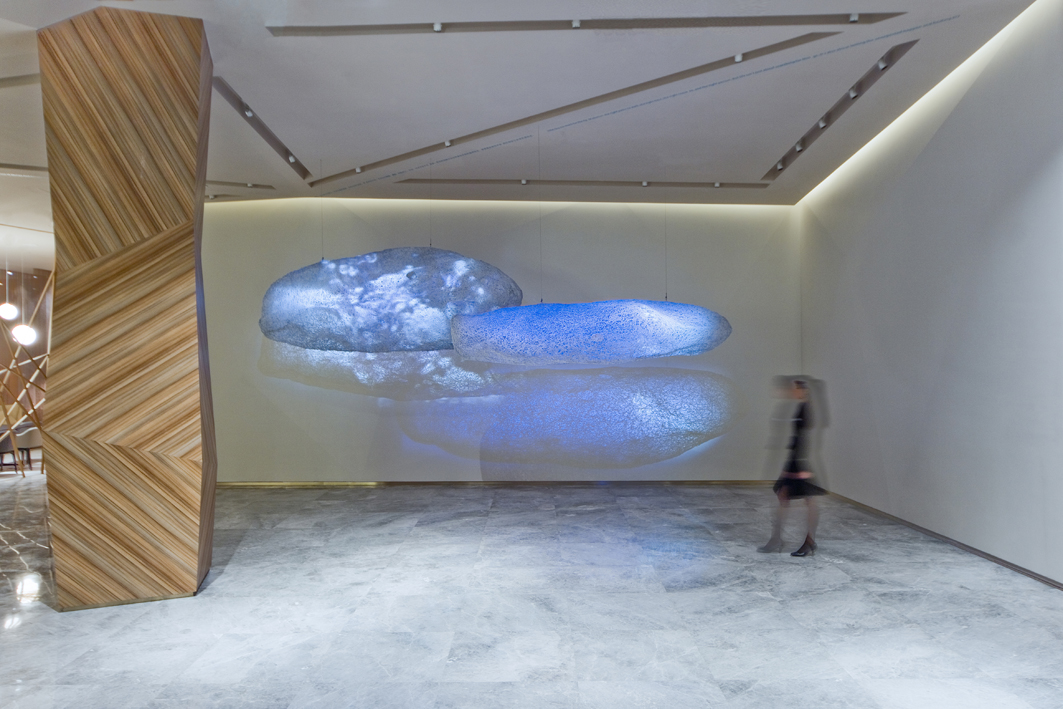 Reception and waiting areas provide casual settings of living room and follow the minimal colour scheme of white. Custom designed metal wall relief at reception area denotes bird's eye view of Chengdu's future cityscape.
Refreshment function of cock-tail events was supplemented by the brown-toned lobby lounge, where also tree-like timber screens and river-like copper curtain give privacy and acoustic quality to the space during usual days. The artistic flavour of the hospitality experience was completed by a full-height black and white photo-collage wall of the city life by a famous local visual artist.