QTC

Location: Shenzhen, China
Client: QTC Restaurant Ltd.
Area: 600 sq.m



QTC is a Chinese restaurant serving modern Hangzhou cuisine and is located on the top floor of a shopping mall situated in Shenzhen, China. The triangular-shaped site, constructed mainly by glass and steel structure, imposed a challenge of any standardized restaurant layout provision and high heat gain. These spatial constraints were subsequently turned into design opportunities and set up a strong brand identity.
A spatial concept of "Butterfly Garden" was adopted to reflect the aesthetics and elegance of the famous West Lake in Hangzhou, key design elements include:

Open dining areas with various seating patterns of booth, bench, table of 2 / 4 / 6 / 8 / 12 and VIP rooms are introduced to cater for different customer's needs.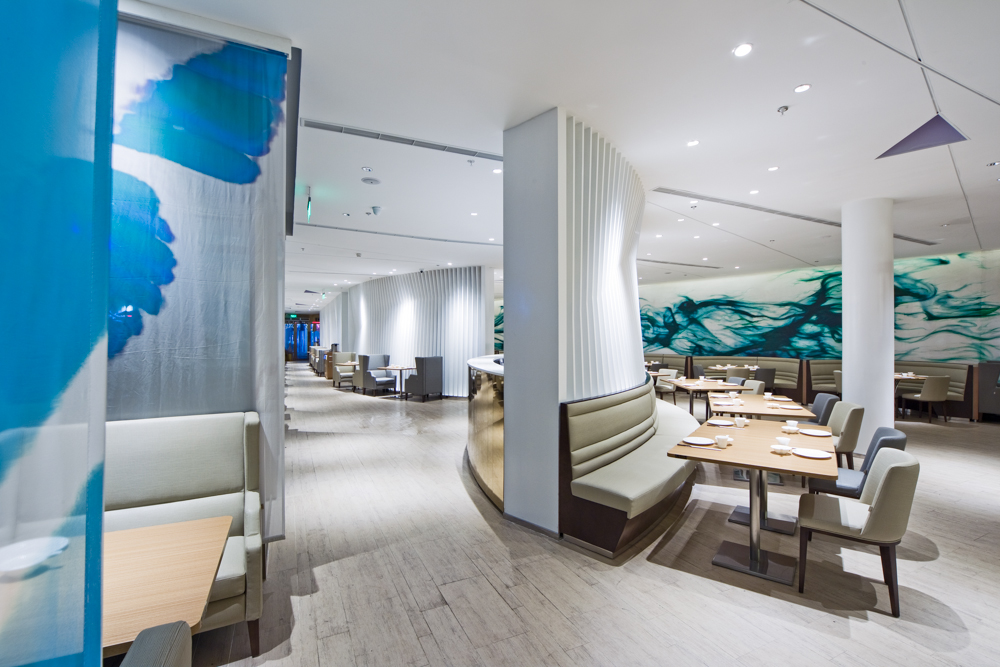 Three inter-connected open-dining areas with different sitting patterns were defined by a central white feature wall in curvy shape, it also signifies the sense of movement of flying butterfly and in turn breaks the rigidity of the triangular site and provide multiple sight-lines for the customers. Super-sized patterns of butterfly's wing were introduced at the end wall and suspended translucent dividers at the window seating area to provide vividness to the space.
Butterfly-shaped restaurant logo was also re-configured to become the laser-cut brass screen to give privacy the VIP table and white pendent lamps above private dining room's table. The former surrounded by various sized circular booths has also become the focal point of the open dining area.
Triangular skylights in different orientations and sizes were introduced on the false ceiling to bring in extra natural light during day-time and generate a comfortable dining experience.
2 Beige-toned dining chairs in alternate arrangement set up subtle contrast to the timber floor and offset from the white ceiling / walls and provide casualness to the general warm-tone dining environment.

QTC aims to move the traditional Chinese dining experience to a new level of trendiness.