Location: Shenzhen, China
Client: China Resources Retail (Group) Co., Ltd.
Area: 150 sq ft


DJS is a new jewellery label launched by Chinese Arts & Crafts (HK) Ltd. selling diamond & jade. It is a total branding exercise to offer new retail experience of a jewellery store targeted at middle class customer group in the local competitive market.

The interior & C.I. design strategy adopted was to make use of the common natures / chemical structures & cut shape "facets" of diamond & jade to generate a unique identity for the brand.

To achieve this, the interior design made use of the metaphor of interpreting the retail space as a glowing gemstone to contain the two different types of prestigious merchandises for the customer to explore.

White spatial envelope of glowing alabaster showcase wall units and white marble floor were firstly set up to provide a minimal setting to the space. Symmetrical layout was then adopted to echo the squareness of the site. This was followed by combining the geometrical composition of facets in both aesthetic & functional layers.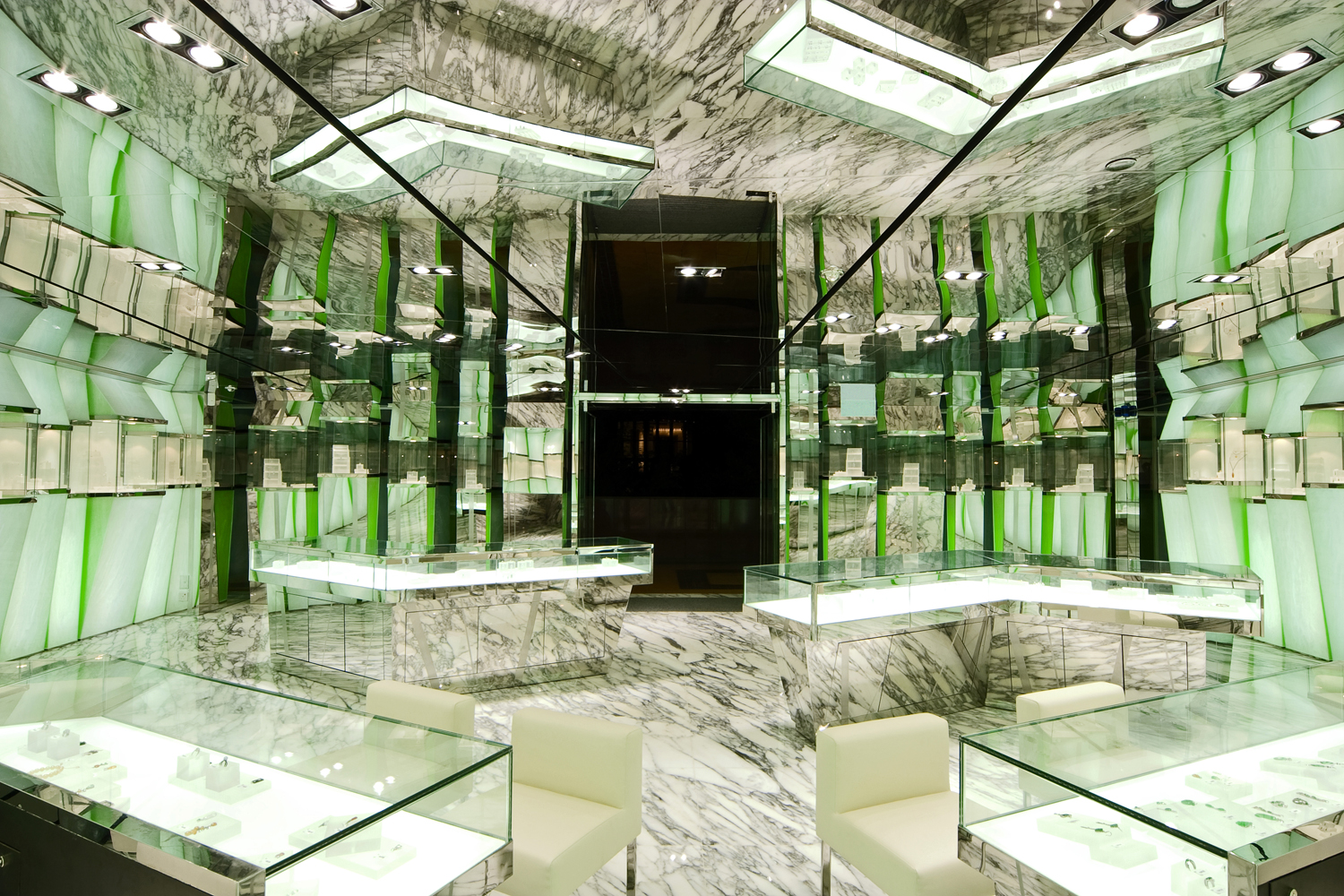 White glowing wall units with tilted vertical faces in random angles allow green side facings to be exposed. This subtle addition of accent green depicts the natural beauty of jade's colour and translucency. Rows of floating glazed "showcase squares" with different sizes and heights created rhythm and strong visual attractions for the customers. Small & precious items of diamond & jade displayed on custom-made frosted acrylic display stands were front & back-lit within each showcase and sculptural island unit to give sparkling & translucent beauty respectively.

The interplay of angular language is finally completed with the slanted mirror stainless steel ceiling to give distorted mirror images & further enhanced sculptural quality of the space which projected strong visual impact through the full-height clear glass shop front.